Welcome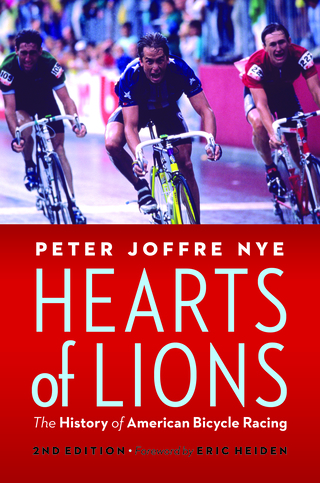 My articles have been published in more than 100 publications, including the Washington Post, USA Today, Humanities Magazine, and Sports Illustrated. Several features have turned into books, and one of those books became the basis of a documentary.
I look for the story behind the story, especially in people and events overlooked or pushed aside in life's hurly-burly.
My latest book is the revised and updated Second Edition of Hearts of Lions: The History of American Bicycle Racing, scheduled for release in May 2020 from the University of Nebraska Press.
https://www.nebraskapress.unl.edu/university-of-nebraska-press/9781496219312/
It builds on my 1988 edition published by W.W. Norton in recounting the phenomenal popularity and development of bicycle racing in the United States, explains how its popularity rose, fell, rose again, and profiles major men and women cyclists over 140 years against a backdrop of economic booms and busts, two world wars, technology transformations, and opening the Olympics to professionals.
I also published The Fast Times of Albert Champion: From Record-Setting Racer to Dashing Tycoon, An Untold Story of Speed, Success, and Betrayal (Prometheus Books), about the flamboyant man from Paris behind the name Champion Spark Plug and the initials in the General Motors division ACDelco. Here's a YouTube interview on KBIA radio on the University of Missouri campus in Columbia, talking with radio host Paul Pepper about the Albert Champion biography: https://www.youtube.com/watch?v=bKDUsn2aHZ8
In 2015 Champion was enshrined in a life-size bronze statute in downtown Flint Michigan. At the unveiling, I had the honor of telling how Champion, born and bred in Paris, arrived in Flint in 1908 and soon helped to build GM from an idea to the world's largest corporation by 1920.
I also co-authored Peak Business Performance under Pressure (Skyhorse Publishing), with Bill Driscoll, a Navy jet-fighter ace and former instructor at TOPGUN. At present I'm helping him write his memoir, Commitments.
For the documentary "The Six-Day Bicycle Races: America's Jazz-Age Sport," I wrote the script, narrated by Frank Deford. The doc premiered at the San Luis Obispo International Film Festival and showed in IFFs around North America and in Berlin, Paris, London, and Edinburgh. I converted the script to a coffee-table book.
Recent freelance journalism includes:
"Meet Major Taylor, the Fastest Man on Two Wheels: In the Guilded Age, he was a trrailblazing international superstar of cycling," in Winter 2022 issue of Humanities Magazine. https://www.neh.gov/article/meet-major-taylor-fastest-man-on-two-wheels
"How Ivermectin Save Louis Gossett Jr. from Dying of Covid-19: When Academy Awqrd-winning actor Louis Gossett Jr. walked out of an Atlanta hospital sick with COVID, he reeached out to Florida Keys Dr. Bruce Boros, Who would save his life," Substack, Rescue.
"Korea and the Thirty-Eighth Parallel: The lattitude line passing between the North and South has separated generations of families," online in April 2019 in Humanities Magazine of the National Endowment for the Humanities.
https://www.neh.gov/article/korea-and-thirty-eighth-parallel
Education:
MFA in Creative Nonfiction from Goucher College, grad study in economics at the London School of Economics, B.S. in Political Science and Journalism from Ball State University.